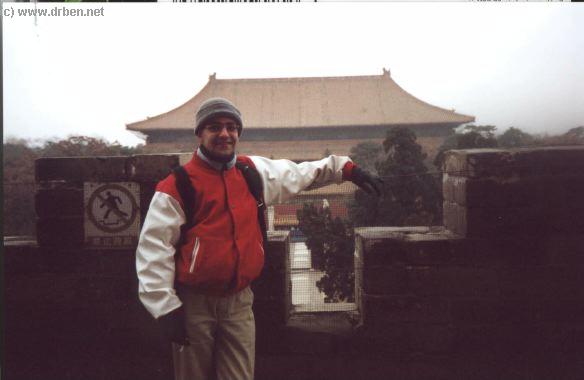 Send an E-Mail to The China Reporter

Sponsor WWW.DRBEN.NET , send a card to a friend!


Ben- 1st Time in Beijing Foto's:

Taken on my 1st China Encounter December 24-1999 to Januari 8-2000

Once Upon a Time , a Ben in China ... Happy to be Here !

Meet the People of China at the Centre of Beijing...

And watch Ben taking risks ... All for better pictures and information..


Chinese Photo-Op with Ben. In 2000 many Chinese were still surprised upon meeting a Westerner. I have never been in so many pictures with complete strangers ! 

Welcome to China's New Millenium with DrBen , at the Tiananmen Square in Beijing !!

V for Victory in the New Millenium!

Ben celebrates his success in coming to China at the Tianan Square and Gate.

I had a great Millenium-party in Hong Kong , and now..? What a Bonus !!

What a Great way to start a new Episode : My 1st steps at this Famous Square and into China.

Travel to Ancient Cites....

Ben at The Ming Tombs , outside Beijing.

Take a Walk into Living History and find yourself in another world !!

Feel Very Small amidst so much Ancient Culture and among so many People !!

Find out more , take a Bite of China with DrBen ! Find out piece by Piece , little by Little. Send DrBen on a Mission , and follow his discoveries on this website !

DrBen ready for more China . At Harmony Square in The Forbidden City. Januari 2000.

DrBen will be hired for Digital Photo-shoots and In-Depth reports on any subject anywhere in China.

He will travel anywhere YOU pay hime to Go.

He also travels on his own personal account or where-ever his sponsoring can take him.

Explore China with DrBen..

Plans come together on www.drben.net.

DrBen takes you to the Best Sites , like for instance the Tiantan , and gets The Best Digital Pictures for you.
Ben at Tiananmen , Mao Mausoleum. Visiting Old Friends Making New Ones.

A bit late and un-expectedly cold after my 2 weeks in Hong Kong , a sudden stroll down from the Capital Hotel.

I had carefully selected this Hotel beforehand and booked it seperatly for it's Great location. My ! Did I get my Money's worth !!

Needless to say I have seldomly enjoyed my after-dinner evning stroll as much as the time this photo was taken.

2003 - I now often call The Capital my 2nd Home, the one in Beijing, and The China Reporter is now their exlusive digital representative.

If you have never been to China and you come here ? You have to do this !!

An awesome historic feeling when posing with Mao's Grand Portrait at the Tian An Men Gate.

A historic photo at the Beginning of the Millenium - A curious Doctor Ben with Beijing locals who are still un-aquainted with Foreign Tourists.

Posing at the Tomb of the Founder of China as a new nation.

A young and Modern Beijinger, curious and proud for a photo with the odd Foreigner and his big camera's.

The future looks bright upon us both !

Getting More aquainted with China and enjoying the wonderful dynastic Sites.

China's Culture spans over 4600 years for the Dynasties alone.

A fascinating land full of discoveries to be made at the other end of the Great continent.

DrBen makes photos where others have not or cannot. DrBen researches his photo-shoots extensively and puts them online for free !

Follow his unfolding China-business adventures at www.drben.net.

Support this  Site and Doc Ben's philantropy in China via our ONLINE STORE, our Banners or by sending free greeting cards.